By: Tonya Mead, CFE, CHFI, PI, MBA, MA Educational Psychology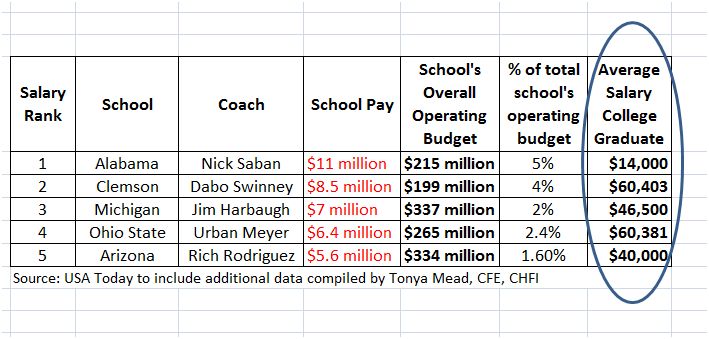 Fansided posted an article "College football coaching salaries: Worth it, Not worth it?" My verdict? None are worth it. May I paint the following picture?  Malevolent acts of fraud in settings of higher learning, exorbitant salaries of the college coaches, gifts to entice young high school players to attend a particular school, bundling of students participating in sports into fake classes, and poor employment prospects of under-prepared steroid-high former college athletes. Totally– Not. Worth. It.
Comparisons
I compiled data from USA Today as well as each individual college's website to obtain financial data on the operating budgets (this took a lot of research as the numbers were often hidden in much verbiage touting the school's  programs). Next, I searched the web for average salaries posted for new graduates. Often the school's data included graduate students and those employed for a number of years. I did my best to find the most accurate statistics to reflect recent/early graduates matriculating from undergraduate programs.
Related articles you might find interesting
But these are my findings as a fraud examiner. What are other view points?
Academic research
John Adamek, is a graduate student at United States Sports Academy.  He analyzed the Legislative Service Database for the 2003- 2014 periods for universities participating in the NCAA, Division I-A and Division I-AA.  He then matched the data stored for infractions and corresponding revenue within the U.S. Department of Education's Equity in Athletics Data.
His findings were striking. "Results show that traditional revenue sports (Men's Basketball and Football) account for 73.9% of academic fraud cases. Of the total number of athletic programs involved in academic fraud over half, 56.5% were revenue generating." (Adamek, para 1, line #5).
Again. What does his paper tell us?
Revenue generating college football and basketball programs accounts for almost 3/4ths of all academic fraud in college sports.
More than half of athletic programs are exposed to the risk of academic fraud.
Revenue and fraud
In a previous article on this blog, "231 NCAA Division I schools with data available generated a total of $9.15 billion in revenue during the 2015 fiscal year."
How does revenue generating activities harm college student athletes?
 CNN and whistleblower, Mary Willingham, observed that "a shocking number of functionally illiterate and ill-prepared student athletes" attend prestigious public schools with few prospects for future career success upon graduation.
Some college student athletes have charged that the education they receive while playing sports is incomparable to the education received by non-athletes attending school at the same time.
Federal cases
How does emphasis on college sports harm the educational environment?
The Department of Justice recently "arrested 10 individuals for taking cash bribes from athlete advisors, including business managers and financial advisors, in exchange for using their influence over college players under their control to pressure and direct those players and their families to retain the services of the advisors paying the bribes."  (para 1, line #2)
In the second fraud scheme arresting officers charged specific companies with" working in connection with corrupt advisors, funneled bribe payments to high school-aged players and their families to secure those players' commitments to attend universities sponsored by Company-1, rather than universities sponsored by rival athletic apparel companies."   (para 1, line #3)
What message does this send to college student athletes embarking on a journey toward self individuation and career readiness? Corruption pays. You're only as good as your physical prowess will take you.  Education. be. damned. (pardon my profanity).
Tonya J. Mead, CFE, CHFI, PI, MBA, MA, former Certified K-12 Administrator and School Psychologist is author of Fraud in Education: Beyond the Wrong Answer and president of Shared Knowledge, LLC If you like her work, please support her at Patreon.
Resources (non-hyperlinked)
Adamek, John. Academic Fraud in Revenue and Nonrevenue Sports. The Sports Journal. November 23, 2017.