The fraud in education resources below were created by Dr. Tonya Mead, and included in her book Fraud in Education: Beyond the Wrong Answer as reference material.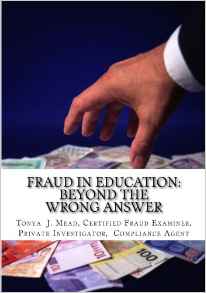 Anyone is welcome to use the information for personal, professional educational, commercial and training use; however proper citation will be required. Thanks for your support and appreciation!
As a background, There is BIG money in education. Taxpayers and venture capitalist invest $605.7 billion annually. 100,000 schools and 7,200 colleges vie for this pot of gold for educating 75.2 million students and employing 4.6 million teachers and faculty. As in other industries, healthcare, insurance, and finance; fraud follows the money flow. According to the Association of Certified Fraud Examiners; the education sector is in the Top 5 industries for reported fraud with the fastest fraud growth rate. Added to this is the increased risk for cyber crime. In 2015, more than 1.3 million identities were exposed in this sector alone. This book explores the conditions making schools and universities prime targets for insider and outsider fraud, cyber and white collar crime and provides recommendations for prevention.