Originally appeared Fraud Magazine, Sept/Oct 2017 Column: Fraud Spotlight
Fraud in education: implications for national security
By Tonya J. Mead, PhD, MBA, CHFI, CFE (Inactive)
The BBC News Service reported last year that nine criminals were convicted for running an illegal immigration fraud ring in the U.K. Foreign applicants for visas in the U.K. must demonstrate competency in the English language. Secret video recordings depicted fake "sitters" at two colleges in London and Watford taking exams to assess English proficiency for foreign visa applicants in exchange for cash. (See "Nine convicted over student visa English test pilot," by Ed Main, BBC News, Dec. 13, 2016, tinyurl.com/lkfgjw4.)
Using the educational system for residency and visa fraud isn't new. In 2014, a fraud ring processing fraudulent student visas enabled "tens of thousands of foreign students" to become permanent residents of Australia. (See "Thousands of foreign students in visa fraud racket," by Geoff Maslen, University World News, Aug. 8, 2014, tinyurl.com/k9mkc48.)
Other articles of interest
"Fraud in international higher education is a $1.5 billion to $2.5 billion business," said Daniel Guhr, managing director for Illuminate Consulting Group, in "Catch Them if You Can," by Elizabeth Redden, Inside Higher Ed, Sept. 14, 2012, tinyurl.com/kdu7sm7.
In 2011, David North, a Center for Immigration Studies Fellow, alerted federal authorities to visa and immigration fraud vulnerabilities in the U.S. He divided visa fraud into three categories:
Individual students who drop out of legitimate universities to become illegal aliens on their own.
Visa mills, which are distinctly illegitimate establishments.
Employees of legitimate universities who misuse their positions to convert legitimate foreign students into illegal aliens.
(See Center for Immigration Studies, tinyurl.com/lvsr983.)
What about the U.S. situation?
It's rare when former students fraudulently entering the U.S. are turned over to the federal government for prosecution. However, technically, the consequence should lead to permanent inadmissibility to the U.S. because of prior fraud or misrepresentation, according to the Immigration and Nationality Act of 1965.
The harm caused by falsified academic transcripts, forged credentials and diploma mills extends far beyond the victim organizations to border management. "In Sweden, we have seen roughly 195 cases of degrees from problematic universities from 1999 to the present and more than half of the cases we have seen are diploma mills from U.S. institutions or that claim to be from a U.S. university," says Erik Johansson, an evaluator of foreign credentials in Sweden, interviewed by David Tobenkin in an International Educator article. "The message I would give is that we would welcome some U.S. federal interest in these matters. This does concern the U.S. as well." (See "Keeping it Honest," International Educator, National Association of International Educators, January-February, 2011, tinyurl.com/k9ajej4.)
Threat to national security
Immigration and visa fraud has proven to pose a serious threat to national security in U.S. Immigration and student visa fraud have been directly implicated in the 9/11 bombings.
Immigration and Customs Enforcement (ICE) officers reported that by 2014 about 36 of the individuals convicted for terrorism in the U.S. entered the country using various forms of student visas. ICE Homeland Security Investigations Special Agent Brian Smeltzer, and unit chief of the Counterterrorism and Criminal Exploitation Unit, made this assessment on July 1, 2014, during an oversight hearing held by U.S. Senate Committee Chair Tom Coburn, 113th Congress. (See "A Review of the Department of Homeland Security's Missions and Performance," page 11, footnote 35, January 2015, tinyurl.com/l3d3qfe.)
On Oct. 21, 2015, a grand jury indicted five alleged terrorists with conspiracy to commit murder overseas. The most interesting aspect of the indictment was that one of the defendants attempted to use $5,000 in student financial aid to fund his overseas trip. (See "Grand Jury Votes Second Superseding Indictment Charging Five With Conspiracy to Murder Overseas," U.S. Department of Justice, U.S. Attorney's Office, District of Minnesota, tinyurl.com/kpumy3q.)
What do we know about fraud in the education sector? There are two distinct groups of perpetrators: outsiders and insiders.
I performed an in-depth analysis of all publicly reported and prosecuted cases of fraud in the public and private education system by the U.S. Department of Education, Office of the Inspector General (OIG) from January 2012 to June 2016 (outsiders and insiders).
I aggregated the information, indexed it by fraudster type (outsider versus insider); coded it by year; and grouped it by criminal charges, number of and type of defendants, age, gender and dollar losses (when available). I then generated a data set to analyze trends and identify criminal profiles. (Sources: "OIG Reports: 2012," tinyurl.com/kql459a, "OIG Reports: 2013," tinyurl.com/kvc63z5, "OIG Reports: 2014," tinyurl.com/ycll6dac, "OIG Reports: 2015," tinyurl.com/l23a5z4 and "OIG Reports: 2016" tinyurl.com/melpx49.)
My analysis revealed that outsiders perpetrated 39 percent of the cases and insiders committed 61 percent. See Figure 1 below. (My analysis is published in my book, "Fraud in Education: Beyond the Wrong Answer," tinyurl.com/kvf8jx2.)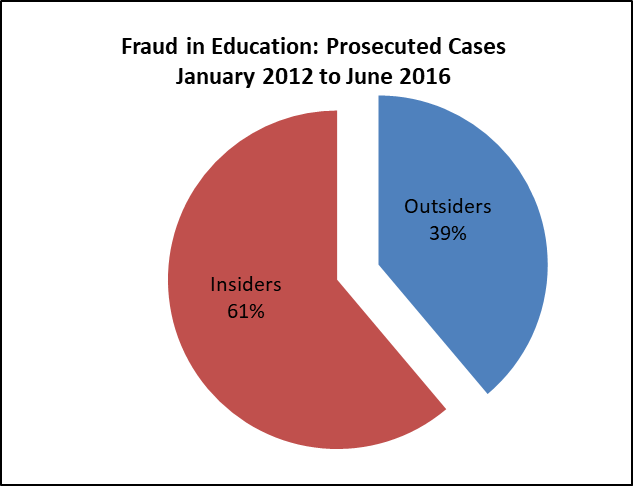 Figure 1: Overall demographics of fraudsters: education sector compiled from all publicly reported and prosecuted cases of fraud in the education sector by the U.S. Department of Education, Office of the Inspector General from January 2012 to June 2016.
Outsiders
Outsiders, such as those arrested for immigration and visa fraud, involve fraud schemes generally affecting higher education. See Figure 2 below. They include aggravated identity theft, forged academic documents, plagiarism, proxy testing on standardized exams, fraudulently obtained visas, purchased credentials and bribery. For additional explanations of different fraud types, click here for a list of dictionary terms I compiled.
Figure 2: Outsider charges
| | |
| --- | --- |
| All outsider charges | Number |
| Financial aid fraud | 37 |
| Mail fraud | 14 |
| Wire fraud | 11 |
| Aggravated identity theft | 7 |
| Making false statements | 7 |
| Identity theft, use of false identification, use identity of another person | 6 |
| Conspiracy to commit wire fraud | 4 |
| Conspiracy to commit student loan fraud | 4 |
| Conspiracy to commit mail fraud | 4 |
| Conspiracy to commit financial aid fraud | 3 |
| Filed false federal tax returns | 3 |
| Bank fraud | 3 |
| Mail fraud | 2 |
| Theft of public funds from financial student aid and public property | 2 |
| Forged documents | 2 |
| Recruitment of straw students | 2 |
| Perjury | 2 |
| Conspiracy to defraud the U.S. | 2 |
| Benefits fraud | 1 |
| Fraud | 1 |
| Felon in possession of a firearm | 1 |
| Mishandling and stealing | 1 |
| Mortgage fraud | 1 |
| False misrepresentation | 1 |
| Larceny | 1 |
| Conspiracy to access Florida A&M computer | 1 |
| Concealment | 1 |
| Conspiracy to murder overseas | 1 |
| Conspiracy to provide material support to designated terrorist organization | 1 |
| Filed fraudulent financial info, false claims | 1 |
| Conspiracy | 1 |
Keeping a watchful eye on fraud in the education sector is particularly important. "[T]he United States, which to date has lacked strong federal laws to combat the problem, has emerged as a delivery mechanism for global fraud," according to David Tobenkin in his International Educator article, tinyurl.com/k9ajej4.
Tobenkin writes that criminals living in Nigeria and China, for example, use their desire to obtain residency in the U.S. as a primary motivation for perpetrating fraud in educational settings such as schools and universities. Also, foreign nationals and undocumented immigrants living in the U.S. misuse the benefits of school enrollment to obtain legal residency, as the California Department of Justice discovered when an owner of four schools pleaded guilty to operating a "pay-to –stay" scam. (See the release, "Owner of Schools that Illegally Allowed Foreign Nationals to Remain in U.S. as Foreign 'Students' Pleads Guilty to Federal Fraud Charges," Central District of California, U.S. Attorney's Office, Feb. 9, 2017, tinyurl.com/ljluc9f.)
How can we detect fraud when we have yet to identify a typical criminal profile?
Not much is known about outsiders who defraud the public using educational entities, service providers and testing companies as victim organizations. What is known (derived from my analysis of OIG Reports' statistics) is that these criminals are equally adept at working alone, in non-related groups of more than two individuals or using family members to carry out the crime, aid and abet. See Figure 3 below.
Figure 3: Outsiders: individual actor or in cooperation with others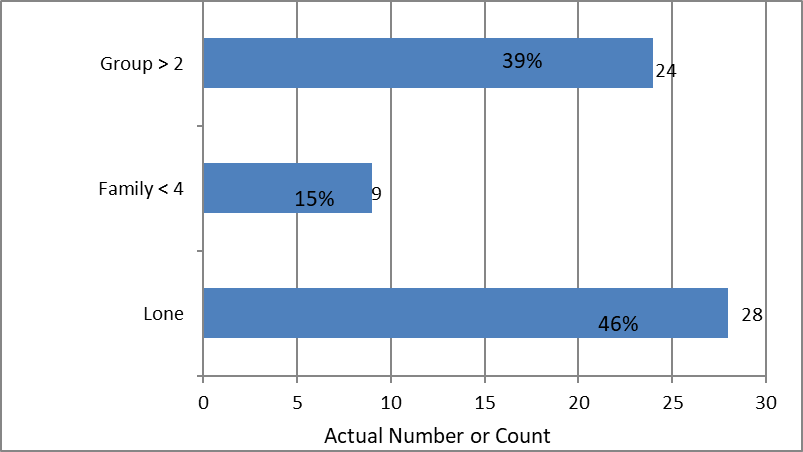 Insiders
According to my analysis ofthe OIG Reports, insiders are responsible for 61 percent of the reported cases of fraud in the public and private education system. The criminal's profile determined to a large extent the types of fraud crimes committed in the education sector. Insiders were generally charged with conspiracy while outsiders were mainly involved with student financial aid fraud. (See Figure 4 below.)
Figure 4: Insider charges
All insider charges
Number
Conspiracy
to commit program fraud (7)
to commit mail fraud (6)
to launder money (4)
to conspire to defraud (3)
to commit bribery, accept kickbacks and/or rig bids (3)
to steal government funds (2)
to commit mail and wire fraud (2)
to commit financial aid fraud (2)
to commit an offense against the US (1)
to embezzle (1)
to commit wire fraud (1)
to commit tax fraud (1)
33
Theft
22
Tax charges, tax evasion, corporate tax evasion, filing a false tax return
16
Mail fraud
13
Embezzlement
12
Accepting/paying bribery, accepting/offering kickbacks, making corrupt payments
11
Submitting false claims (false claims act)
11
Fraud
8
Obstruction of justice, obstruction of federal audit
8
Wire fraud
7
False statements
7
Aggravated identity theft
6
Student financial aid fraud, student loan fraud
6
Federal program/grant fraud
5
False certification, falsified corporate books, records, student grades, and/or attendance
5
Forgery
3
Money laundering
3
Bank fraud
2
Stealing and/or mishandling
2
Unlawful conversion of school funds
2
Witness tampering
2
Aiding and abetting
1
Cashing of checks to fictitious vendors
1
Illegally accepting benefits
1
Cheating on state exam
1
Conflict of interest
1
Deprivation of honest services
1
Engaging in monetary transaction in property derived from unlawful activity
1
Enrollment fraud
1
Failure to return federal funds
1
Felony ethics
1
Felony fraud
1
Foreign student visa fraud
1
Larceny
1
Misprision of a felony
1
Operating and participating in a criminal enterprise
1
Victim organizations
Why are educational entities victimized by fraud? Collectively, U.S. taxpayers alone invest approximately $606.5 billion in funding for education, according to the National Center for Education Statistics Blog Editor, Jan. 25, 2016, which summarized two 2013 Reports on Revenue and Expenditures for Public, Elementary and Secondary Education. (See tinyurl.com/mvq8hbc.) If you are a CPA, Accountant, Bookkeeper, Investigator or Administrator, please see below a list of resources I developed to help reduce the likelihood that your organization will become victimized.
Fraud Resources for the CPA, Accountants, Bookkeepers and Investigators
Now back to the article, in addition to public sources of funds to support education, venture capitalists infuse almost $2 billion annually into the education sector with the anticipation of significant gains on their investment, according to Mark Koba, in his April 28, 2015, Fortune article, "Education tech funding soars — but is it working in the classroom?" (See tinyurl.com/mgeklnq.)
These public and private sources of funds enable more than 100,000 pre-schools, elementary, secondary and 7,200 post-secondary colleges and universities to support 75.2 million students and employ more than 4.6 million teachers and faculty, according to The National Center for Education Statistics' "Digest of Education Statistics, 2015 (NCES 2016-014), Chapter 2, tinyurl.com/zort7df.
Unfortunately, even with the most benevolent intentions, the threat of fraud increases with the perception of easy money flowing into and out of the coffers of education. According to the ACFE 2016 Report to the Nations (ACFE.com/RTTN), the education sector ranks in the top five of its list of industries for reported cases of fraud. When compared against other industries, the education sector has experienced the highest growth rate for increased risk of fraud and white-collar crime.
Environmental conditions existing in this sector that expose schools and colleges to increased incidents of white-collar crime are varied and range from porous governmental regulation, constant change and upheaval, to fiscal irresponsibility.
Read about the environmental conditions existing within the education sector that increases the potential for fraud here: The Educator Fraud Prism.
Because insiders represent more than 61 percent of all reported cases of fraudulent criminal activities in the education sector, my "Fraud Spotlight" column in the November/December issue will emphasize the education industry, criminal profiles including job title and age range, functional departments targeted and specific acts, which fraud examiners might focus on when seeking to detect, deter and investigate fraud.
Tonya J. Mead, PhD, MBA, CHFI, is the president of Shared Knowledge, LLC, a private investigations firm, https://ishareknowledge.com and blogger at https://ishareknowledge.com.
She's a recipient of the 2014 Cafritz Award for Excellence in Government Service and Public Leadership in recognition for her work in designing an investigative program for the Washington, D.C. public schools. Her email address is: tonya@ishareknowledge.com.